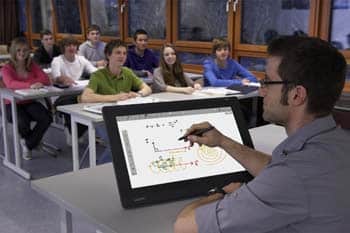 La escuela The Studienkreis de Alemania ha incorporado las tabletas interactivas Bamboo de Wacom para dar clases on line de apoyo. Así, con Bamboo y el software Twiddla, los tutores pueden hacer correcciones de ejercicios en tiempo real, añadir comentarios manuscritos y realizar dibujos o bosquejos para enriquecer sus explicaciones.
Fundada en 1974, The Studienkreis es una de las principales instituciones educativas privadas de Alemania, con alrededor de 1.000 sedes en todo el país. Desde septiembre de 2011, la escuela proporciona tutorías on line que funcionan como clases de apoyo para los alumnos que necesiten reforzar temas fuera del horario del aula. Y, para ello, los profesores necesitaban hacer comentarios, correcciones en tiempo real o dibujos que les permitiesen explicar los temas con claridad. Así que era fundamental contar con una solución que facilitase la integración de notas manuscritas en las tutorías digitales.
Para enseñar a los docentes a trabajar con Bamboo, estos recibieron formación tanto sobre el uso de la tableta como sobre Twiddla, un software específico para la colaboración on line. Además de la tableta Bamboo, los tutores están equipados con auriculares, una webcam, un ordenador; y para comunicarse con el alumnado se conectan vía Skype. Durante la tutoría, los ejercicios se pueden comentar y corregir fácilmente. Si, además, el estudiante tiene un pen tablet Wacom, también puede escribir las respuestas o realizar ejercicios matemáticos a mano. A pesar de realizar las tutorías a través de Internet, se puede generar una colaboración entre profesor y alumno muy similar a la de una tutoría personal. Otra ventaja es que, al incorporar nuevas tecnologías, estas tutorías son más atractivas para los alumnos, que se sienten más motivados y en consecuencia los resultados del aprendizaje son mejores.